Helps transaction-based companies close deals, integrate acquisitions, and promote value growth strategies faster.
The Acceleration Hub is a multi-disciplined network of M&A consulting businesses with the operational experience, resources, processes, and tools to accelerate deal closings and integration. Our extensive consulting offerings can be initiated through a single point-of-contact, which will expedite all deal phases.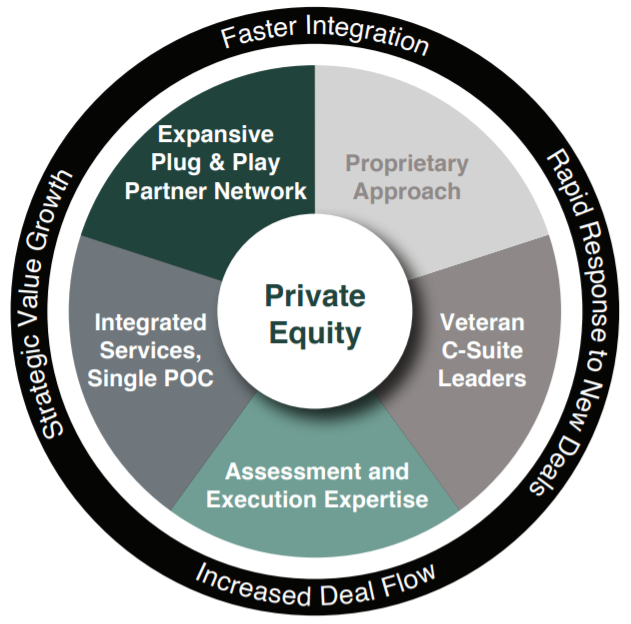 Multi-disciplined network of partner companies providing critical services
• Strategic Planning
• Value Growth Architecture
• Risk Management
• Finance
• Sales and Marketing
• Business Process Re-engineering
• Human Capital Management
• Information Technology
Industries Served
• Commercial Real Estate
• Strategic Planning 
• Financial Services
• Healthcare
• Manufacturing
• Technology
• Government Contracting
Get to know our partner network
We are ready to serve all your needs to drive value, growth, profits and success!
Strategy Partners Group's our buy side focus on increasing the speed and close rate of Private Equity deals puts more of your cash to work faster. Coupled with value growth oriented post acquisition integration support, Strategy Partners Group is your single source to add value to your acquisition target from start to finish.
With over 100+ fractional chief marketing officers (CMO) from coast-to-coast, you gain the expertise and wisdom of sales and marketing leaders that have worked as marketing executives for Fortune 500 companies, tech giants as well as start-ups and turnarounds with achievements in digital marketing, brand development and consulting.
Marsh McLennan Agency (MMA) serves the risk prevention and insurance needs of middle market companies in the United States. Mid-size companies need a partner they can trust and that can provide additional tools for opportunity and growth.
Sofer Advisors are experts in providing business valuation services. They have performed business valuations for scores of companies, large and small, throughout the United States.
Dataprise is the premier managed IT services partner to growing and midmarket organizations across the United States, including an extensive roster of buy-side and private equity-backed clients. We deliver best-in-class IT management, cybersecurity, data protection, cloud and end-user solutions that drive business, enhance user experiences, and eliminate business risks.
Rehmann is a fully integrated financial services and business advisory firm that provides accounting and assurance, business solutions and outsourcing, specialized consulting, and wealth management services. For 80 years, Rehmann has provided forward-thinking solutions to our clients. With a highly developed and growing QofE practice, Rehmann is a vital partner for equity firms in the middle market looking for quality services throughout the deal lifecycle.
ADP are a comprehensive global provider of cloud-based human capital management (HCM) solutions that unite HR, payroll, talent, time, tax and benefits administration, and a leader in business outsourcing services, analytics and compliance expertise. Our unmatched experience, deep insights and cutting-edge technology have transformed human resources from a back-office administrative function to a strategic business advantage.
Get to know our partner network. We are ready to serve all your needs to drive value, growth, profits and success!
Start the conversation today.